Julia Dudley Najieb talks about the updates on the Black Headline News network one year anniversary.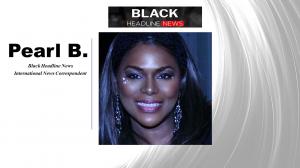 Pearl is a seasoned, professional, multimedia journalist for Black Headline News
Black Headline News is expanding to FAST channels this fall
USA, August 25, 2023/EINPresswire.com/ — Last night, Black Headline News (BHN) founder, Julia Dudley Najieb, reviewed the big updates happening this year concerning the BHN channel and network on its one-year anniversary.
BHN launched last year on August 24, 2022, with a focus on highlighting participating Black publishers' news websites. Now the channel is taking a pivitol turn toward catering to international audiences through its FAST channel and short-form video content.
However, Dudley Najieb described the new direction as an over-haul project that took almost two seasons to restructure traveling on a new frontier that was also new ground for her team members helping with the extreme infrastructure change.
"Traveling the road less traveled–well, there is bound to be some issues along the way–it's expected," said Dudley Najieb. "But once you clear the path, it is so much easier to walk it, and so can others that come behind you in the near future."
FAST channels are defined as streaming services that allow users to enjoy content for free, according to bitcentral.com. These services mimic a traditional linear TV experience–"free ad-supported streaming TV." In a FAST service, everything is supported by ad revenue (instead of a subscription-based model like Netflix or a hybrid model like Hulu's subscription-and-ad-supported tier).
Consumer demand for FAST channels is rising, according to bitcentral.com. FAST services like Tubi and Pluto TV account for tens of millions of hours streamed each month. For content distributors, this opens up another opportunity to connect with audiences.
Dudley Najieb was able to proceed with caution and knowledge, thanks to FAST channel technical partner and adviser, Broadpeak, who took the reins, fixed the patches and moved the channel forward to the next phase, connecting all of the other pieces BHN had accumulated regarding the FAST channel tools and services it already had in place, such as long-time video service partner, Viloud TV, and advertising guru company, Undertone.
"It's not a 'one-size fits all' type of solution when you are dealing with multiple aspects concerning a FAST channel and its distribution model," explained Dudley Najieb. "Having 150 hours of content in the beginning is a big but small part of it; you have to be able to connect the advertising to pay for the bandwidth and other fees–everyone gets a piece of you, whether you like it or not. But in the end, everyone still wins."
Dudley Najieb said she is lucky to have partnered with companies and business individuals who already have some experience with FAST channels or prior knowledge with the technical aspects to get things moving faster.
With a new slogan derived from the mass attention Black Headline News is starting to get internationally, the BHN team is delighted to know that people across the world are now looking for Black Headline News and where to watch: The world has discovered Black Headline News, and the world has spoken. Associate producer, Brigitte Jones, who created the new slogan for BHN found it fitting because of the attention BHN is getting from international eyes and partners who are interested in helping the channel succeed.
"Black news is global," said Jones. "Everyone wants to know what is happening from a non-biased viewpoint, no matter who they are. Black Headline News' original content is going to give them that."
Meanwhile, BHN has also expanded its short-form video content to outside, popular news outlets who are looking for news from a BIPOC perspective or news that is culturally related. This has also been a very successful venture for BHN this summer. Video views have gone through the roof due to a new Canadian content partner that distributes Black Headline News to over 3,000 other media outlets worldwide. They are also providing BHN a premium ad player for the BHN short-form video content for participating publisher websites this fall–it beats the old model of Black media having to garner advertising dollars as a single media outlet, one at a time. Instead, BHN will focus on bringing in more viewers through its dynamic original and licensed video content–new vodcast content partners and producers are to be discussed in part 2 of the BHN one-year anniversary special.
"Negotiating deals with advertising partners has been much easier once we tell them we have a FAST channel, where we are distributing it worldwide," explained co-founder, Lennice Najieb. "The numbers on the video views have been phenomenal even this far, without us promoting anything."
Also, BHN news stories have gone international to serve the different Black audiences worldwide. In fact the BHN team has added a seasoned, professional international news correspondent who goes by the name, "Pearl." She covers the international scene from entertainment news to fashion and film festivals, to sports and breaking news. Her background as a worldwide, extraordinary, multimedia journalist includes covering upscale fashion shows in London, Milan, New York, Zürich; and many other countries.
Lennice Najieb
Info Media Distribution
email us here
Watch Part 1 of the Black Headline News One-Year Anniversary
Originally published at https://www.einpresswire.com/article/651968834/founders-review-black-headline-news-one-year-anniversary-update-explaining-the-new-direction