A diet focused on whole plant foods effectively lowers inflammation and boosts well-being. Nutrient-rich plants, with antioxidants and fiber, combat oxidative stress and regulate immunity for reduced inflammation. A smart choice for a healthier life.
A 3-5 day water fast wields a profound immune-boosting effect. This brief fasting period triggers autophagy, renewing immune cells, and enhances stem cell regeneration. Science backs its potential to bolster immunity significantly.
Dive into Dr. Akoury's book, 'Cancer: Beyond The Cure,' a treasure trove of insights about one of humanity's most dreaded diseases. A wealth of educational content awaits, offering a deeper understanding of cancer and its complexities.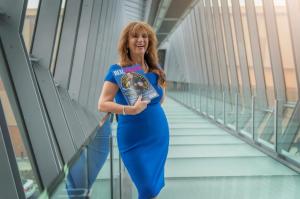 Dr. Akoury is resolute in her mission to revolutionize healthcare and eliminate cancer. Her unwavering commitment shines as a beacon of hope, driving positive change and healthier lives.
Embodying Transformation and Harmony: The AWAREmed logo symbolizes our holistic approach to wellness, uniting mind, body, and spirit for optimal well-being. Join us on a transformative journey towards lasting health.
A Comprehensive Guide to Holistic Wellness and Cancer Research
Let us never waver in our pursuit, for the day will come when cancer's hold will be no more, and our relentless dedication will light the path to a world without its shadow."
— Dr. Dalal Akoury
JOHNSON CITY, TENNESSEE, UNITED STATES, August 18, 2023/EINPresswire.com/ — FOR IMMEDIATE RELEASE
Johnson City, TN – 08/18/2023 – On this National Cancer Research Day, Dr. Dalal Akoury, a distinguished medical professional with over four decades of experience in oncology, is taking a significant step forward by sharing invaluable insights from her eBook, "Cancer: Beyond The Cure." With an unwavering commitment to advancing cancer research and treatment, Dr. Akoury is shedding light on the brain-gut connection and unveiling crucial strategies to enhance wellness.
Dr. Akoury's eBook, available on Amazon, encapsulates her extensive research and expertise in oncology, offering readers an in-depth understanding of holistic approaches to cancer management. One pivotal aspect that Dr. Akoury highlights is the brain-gut connection, emphasizing the profound impact of diet and fasting on cancer prevention and treatment.
In her eBook, Dr. Akoury underscores the significance of adopting a whole food plant-based diet as a potent anti-inflammatory and anti-cancer measure. Plant-based foods are rich sources of essential nutrients, enzymes, and building blocks that promote optimal health. Making the transition from processed foods to wholesome plant-based options can significantly transform one's overall well-being.
Additionally, Dr. Akoury expounds on the potential benefits of fasting diets as a powerful free therapy. She shares that a 3-5 day water fast can lead to the elimination of old and damaged immune cells. Subsequently, when normal eating resumes, the body's production of new insulin cells intensifies. Dr. Akoury presents compelling research indicating that cancer patients who incorporated a water fast before and after chemotherapy experienced enhanced treatment effectiveness and reduced side effects.
Dr. Akoury acknowledges the potential challenges of fasting, including the occurrence of a "Healing Crisis" characterized by symptoms such as low energy, headaches, nausea, and fever. This phase, although uncomfortable, is a sign of the body's detoxification process. Dr. Akoury suggests starting the fasting period on a Friday, ensuring that the most challenging days align with the weekend for a smoother experience.
However, Dr. Akoury emphasizes that individual responses to fasting can vary based on medical conditions and pharmaceutical interactions. As such, she strongly advises individuals to consult medical experts and exercise judgment before embarking on any fasting regimen.
Dr. Akoury's dedication to promoting well-being, her extensive experience in oncology, and her commitment to sharing her research through "Cancer: Beyond The Cure" underscore her continuous efforts to drive cancer research and treatment forward.
For more profound insights and guidance on the brain-gut connection in cancer, access Dr. Akoury's eBook on Amazon. Discover the transformative potential of holistic approaches to cancer prevention and treatment.
Disclaimer: Medical recommendations and individual responses may vary. Consult with healthcare professionals before making any significant dietary or fasting changes.
For media inquiries, please contact:

Shannon Head

Social Media Manager

[email protected]
About Dr. Dalal Akoury:

Dr. Dalal Akoury is a seasoned medical practitioner with over 40 years of experience, specializing in oncology and holistic wellness. She is the author of "Cancer: Beyond The Cure," a comprehensive guide that delves into holistic strategies for cancer management and prevention. Dr. Akoury is a staunch advocate of integrative medicine, and her commitment to health and wellness has garnered her accolades, including the Top Inspirational Doctor of the Year in Oncology award by IAOTP in 2022. Through her extensive medical knowledge, Dr. Akoury continues to empower individuals to achieve optimal health and well-being.
Dalal Akoury
AWAREmed Health and Wellness Resource Center
+1 843-957-1196
email us here
Visit us on social media:
Facebook
LinkedIn
Instagram
YouTube
TikTok
The Holistic Hour with Dr. Akoury: "What Is Cancer?" | BYP TV Exclusive


Originally published at https://www.einpresswire.com/article/650679677/empowering-through-knowledge-dr-dalal-akoury-explores-brain-gut-link-in-cancer