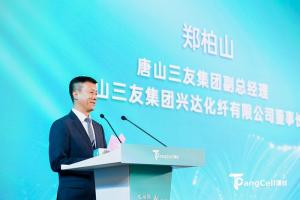 Zheng Baishan, Chairman of Tangshan Sanyou Group Xingda Chemical Fiber Co., Ltd.
Sanyou Chemical Fiber, Renewcell, Ekman and industry chain partners start a journey of recycling and fashion
CHINA, August 31, 2023/EINPresswire.com/ — "2023 Tangcell Night – The Commitment to Circular Fashion" with the theme of "Net-Positive Embraces Closed Loop and New Green" was grandly held in Shanghai on August 28th, 2023. The event was organized by Tangshan Sanyou Group Xingda Chemical Fiber Co., Ltd. (hereinafter referred to as Sanyou Chemical Fiber) with the aim of calling attention to green and sustainable development, advocating a green lifestyle, and at the same time demonstrating a perfect combination of fashion and circular economy.
Integration into the general trend of the times, Sanyou Chemical Fiber sees great potentials
The event was attended by a strong lineup of leaders and guests, including Sun Ruizhe, Chairman of International Textile Manufacturers Federation (ITMF) & President of China National Textile and Apparel Council (CNTAC); Duan Xiaoping, Vice President of CNTAC; Yan Yan, Director of Office for Social Responsibility of CNTAC; Chen Xinwei, President of China Chemical Fibers Association (CCFA); Dong Kuiyong, President of China Cotton Textile Association; Zheng Baishan, Chairman of Tangshan Sanyou Group Xingda Chemical Fiber Co., Ltd., and Liu Yong, General Manager of Tangshan Sanyou Group Xingda Chemical Fiber Co., Ltd., as well as leaders from relevant departments and industry associations of CNTAC, business representatives from the pulp, yarn, weaving and garment industries as well as guests from overseas companies. Canopy, an industry stakeholder, also attended the event, which was hosted by Zhang Zixin, Director of the Science and Technology Department of CCFA.
Mr. Duan Xiaoping specifically mentioned in his speech that, driven by global carbon reduction actions, circular fashion has become a major development trend of the global textile industry. As one of the leading enterprises in cellulose fiber industry in China, Sanyou Chemical Fiber has always been leading the technological progress and development direction of the entire industry. Based on the significant advantages of Sanyou Chemical Fiber in the development trend of textile industry, he believes that Sanyou Chemical Fiber still has great potential in the future.
Practicing green cycle concept for the coexistence of green and fashion
With the continuous evolution of the global "carbon peak, carbon neutral" goal, the green development of the textile industry has become an important direction and a necessary way for enterprises to grasp the new opportunities of the times as well as the new track of brands, and to enhance the right to speak in future sustainable development.
Mr. Zheng Baishan pointed out that as a pioneer in the industry, Sanyou Chemical Fiber has explored a new direction of low-carbon and green development for the industry, and has met customers' growing demand for "circular fashion" from the raw material side. Based on the in-depth cooperation with Renewcell and the strong support from Canopy, Sanyou Chemical Fiber has become a leading enterprise in the industry that truly realizes the bulk and stable supply of recycled fibers.
Leading industry change with sustainable products as a link
As a key partner of Sanyou Chemical Fiber, Ms. Neva Murtha, Next Generation Solutions Issue Specialist of Canopy, in her keynote speech on "Next Gen Now: Collaborating to Shape the Future of Green Textile Production in China", advocated for the mobilization of efforts to support early-to-market producers, explore systemic solutions, and expand the partnership with Sanyou Chemical Fiber and Renewcell.
Ms. Tricia Carey, Chief Commercial Officer of Renewcell, said at the event that Renewcell advocates working in partnership for systemic change.
Zhang Dongbin, Executive Deputy General Manager of Sanyou Chemical Fiber, introduced the development history and environmental protection concept of Sanyou Chemical Fiber in his keynote speech "Next-Generation Green Fiber, New- Generation Green Fashion". Meanwhile, he elaborated on Sanyou Chemical Fiber's next step of development. It is expected that by 2024, Sanyou Chemical Fiber will produce recycled fibers from 100% Circulose pulp, increase the content of recycled textiles in the fibers to 100%, and plan to expand the output of recycled fibers to 200,000 tons gradually according to the market demand.
The spirit of cooperation promotes the prosperity of the industry, and technological innovation leads the change of the industry. The following two important ceremonies pushed the atmosphere to a climax. The first was the release ceremony of "Sanyou Chemical Fiber, Renewcell, Ekman and Industry Chain Partners Start A Journey of Recycling and Fashion", which shows that green and sustainable development has become the common goal pursued by both upstream and downstream of the textile industry chain, and that win-win cooperation and innovation leadership are the driving force for the continuous development of the industry. The second is the release of "Sanyou Chemical Fiber 2022 Sustainable Development Report". Sanyou Chemical Fiber will continue to promote the concept of sustainable development into the corporate DNA, build a solid foundation for sustainable development, and work together with stakeholders to create a new situation of sustainable and high-quality development.
For the future, Sanyou Chemical Fiber has a clear plan and roadmap based on a far-reaching and down-to-earth approach: it is continuously committed to solving the pain points of the textile industry from the fiber perspective, and contributing its wisdom, solutions and strength to make China's textile industry invincible in the high-end field.
"2023 Tangcell Night – The Commitment to Circular Fashion" is not only a gorgeous fashion feast, but also a transmission of green advocacy and social responsibility. It gives us a deeper understanding of the importance of a circular economy and how to incorporate green concepts into our daily lives. We firmly believe that only if everyone actively participates in environmental protection actions can we jointly shape a beautiful China and make positive contributions to the construction of the global ecological environment.
crystal
Tangshan Sanyou Group Xingda Chemical Fibre Co., Ltd.
[email protected]
Originally published at https://www.einpresswire.com/article/652973418/2023-tangcell-night-the-commitment-to-circular-fashion-theme-event-successfully-held-in-shanghai