Massive Bio and Health in Code Collaborate to Enhance Personalized Oncology Treatment Through Advanced Genomic Testing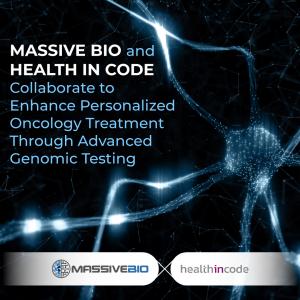 Massive Bio and Health in Code Collaborate to Enhance Personalized Oncology Treatment Through Advanced Genomic Testing
NEW YORK, NEW YORK, UNITED STATES, October 31, 2023 /EINPresswire.com/ — Leading personalized medicine providers, Massive Bio and Health in Code, announced today a groundbreaking collaboration. This partnership is set to redefine the landscape of cancer treatment by combining Massive Bio's Artificial Intelligence (AI) capabilities with Health in Code's advanced genomic testing.
The collaboration focuses on delivering personalized medicine to cancer patients, which is essential in the present era where precision oncology is becoming paramount. By incorporating biomarker testing and genomic data into clinical decision-making, both organizations aim to provide more accurate and individualized treatments for cancer patients.
The core of the collaboration lies in the goal to increase patient access to clinical trials and precision oncology. Integrating Health in Code's state-of-the-art cancer genetic knowledge and testing capabilities with Massive Bio's AI-driven prescreening tools are expected toimprove health outcomes and significantly reduce costs. This union is promising, especially for patients in Spain, where Health in Code has a significant presence.
"By harnessing the power of AI and cutting-edge genomic testing, we're stepping into a new frontier of oncology treatment. This collaboration is a testament to our commitment to offering cancer patients the most appropriate clinical trials analysis possible, tailored to their unique genetic makeup" said Toygun Onaran, CFO of Massive Bio.
The partnership between Massive Bio and Health in Code is not merely transactional but it is built on shared values and a commitment to groundbreaking research. Both organizations believe that this collaboration will set a new standard in cancer care, emphasizing a data-driven and patient-centric approach. They are planning a series of webinars and patient engagement events in the upcoming months to educate the public about the benefits of biomarker detection for personalized medicine and the breakthroughs this collaboration aims to achieve. This commitment to patient education and advocacy further underscores their collective dedication to transforming the future of oncology.
"Health in Code Group has always focused its efforts on making available to clinicians state-of-the-art technology and all the knowledge necessary for the implementation of genetic biomarkers in cancer patients management. By collaborating with Massive Bio, we will facilitate oncology patients access to clinical trials, enabling them to benefit from precision medicine", remarked Inés Calabria, PhD, Head of Oncology at Health in Code.
About Health in Code
Based in Spain, Health in Code (HIC) is a frontrunner in genetic diagnostics with over 20 years of expertise. Serving over 40 countries, they seamlessly merge clinical and molecular insights to diagnose genetic-based diseases. Their innovative team of over 200 specialists delivers tailored NGS solutions, as well as their own software for the analysis and guidance for the clinical interpretation of genetic results across varied clinical domains. HIC's commitment to translating genomic data into actionable knowledge has revolutionized personalized medicine, allowing the use of genetic biomarkers in clinical practice. Their recent acquisition of the NovaSeq X Plus, Spain's first, reinforces their leading position in the genomic diagnostics landscape.
Contact:

Jonathan Garmón García

Marketing & Communication Manager

[email protected]

+34 963 212 340
About Massive Bio
Massive Bio empowers cancer patients to find their best treatment options, using artificial intelligence to improve equitable access and precision targeting for clinical trial matching, drug matching, and drug development. Massive Bio combines its best-in-class AI platform with technology-enabled services to remove barriers in clinical trial enrollment, value-based oncology decisions, and data-driven cancer treatment. The company serves more than two dozen pharmaceutical companies, contract research organizations, and hospital networks, and has been awarded an SBIR contract by the National Cancer Institute. Massive Bio was founded in 2015 by clinical, technology, and M&A executives, and has a global presence with nearly 100 people in 12 countries.
Erkan Terzi
Massive Bio
+1 844-627-7246
[email protected]
Visit us on social media:
Facebook
Twitter
LinkedIn
Instagram
YouTube
TikTok


Originally published at https://www.einpresswire.com/article/664274800/massive-bio-and-health-in-code-collaborate-to-enhance-personalized-oncology-treatment-through-advanced-genomic-testing