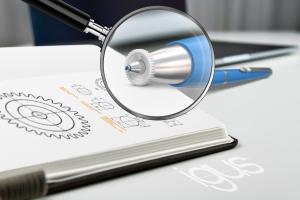 For very precise applications, igus now offers wear-resistant micro gears made of high-performance plastics. (Source: igus GmbH)
The micro gears' delicate teeth make them suitable for very precise applications in small installation spaces
STAMFORD, CONNECTICUT, UNITED STATES, October 5, 2023 /EINPresswire.com/ — Engineers around the world are designing increasingly compact products. To meet their needs, igus®, the Germany-based manufacturer of motion plastics, has developed micro gears with modules down to 0.2. The gear teeth have dimensions very close to that of human hair. However, thanks to high-performance plastics, they still allow low-wear, precise movements for high-quality products despite the minute size.
As a photographer zooms in with their camera, a gear system composed of extremely small gears moves within the lens—just a few millimeters in size. The teeth on these gears are even smaller, barely discernible to the naked eye.
"For such precision mechanics applications, designers need micro gears that are nevertheless stable and low-wear enough to operate reliably for years," explains Steffen Schack, Head of the iglide Gears division at igus. "We have therefore optimized our manufacturing process to mechanically manufacture micro gears with modules down to 0.2 using high-performance plastics."
The company utilizes iglide® semi-finished products, including iglide A180 and iglide A500. The materials are tribologically optimized, meaning they have excellent properties in terms of friction and wear coupled with robustness. At the same time, they are significantly lighter than metal gears.
Gear Teeth as Fine as a Human Hair

With modules down to 0.2, the polymer specialist has pushed the limits of its mechanical manufacturing even further.
"Producing gear teeth that are barely discernible to the naked eye is an ability that sets us apart from many competitors in the market," emphasizes Steffen Schack. "Despite the minute size, the teeth exhibit excellent mechanical properties. They enable highly precise, reliable movements in precision mechanics."
Cost-Effective Pricing Even for Small Batch Sizes

igus now offers customized manufacturing of micro gears made of high-performance plastics.
"Our mechanical manufacturing from iglide semi-finished products also allows cost-effective pricing even for small batch sizes. For larger batch sizes, for example, for automobile mass production, we can manufacture by injection molding," explains Schack.
Schack also noted that the gears are suitable for numerous applications requiring finely tuned movements in confined spaces – such as for microscopes and other optical instruments, as well as miniature motors and micro drives.
Learn more about wear-resistant plastic gears made of high-performance polymers from igus here: https://www.igus.com/info/plastic-gears
ABOUT IGUS:
igus GmbH develops and produces motion plastics. These self-lubricating, high-performance polymers improve technology and reduce costs wherever things move. In energy supplies, highly flexible cables, plain and linear bearings, and lead screw technology made of tribo-polymers, igus is the worldwide market leader. The family-run company based in Cologne, Germany, is represented in 31 countries and employs 4,600 people across the globe. In 2022, igus generated a turnover of €1.15 billion. Research in the industry's largest test laboratories constantly yields innovations and more user security. Two hundred thirty-four thousand articles are available from stock, and service life can be calculated online. In recent years, the company has expanded by creating internal startups, for example, ball bearings, robot drives, 3D printing, the RBTX platform for Lean Robotics, and intelligent "smart plastics" for Industry 4.0. Among the most significant environmental investments are the "chainge" program – recycling used e-chains and participating in an enterprise that produces oil from plastic waste.

PRESS CONTACT:
Michael Rielly
+1 800-521-2747
[email protected]
Originally published at https://www.einpresswire.com/article/659659925/as-fine-as-a-human-hair-new-igus-micro-gears-with-0-2-module